Some Twitter users have taken to the microblogging platform to share their worst date experience with the opposite sex and the tweets are rib-cracking.
The interesting discourse was spearheaded by a tweep, known as @khanofkhans11_, who posed an open-ended question to Twitter users to share their worst date experiences.
He tweeted, "Tell us your worst date experience."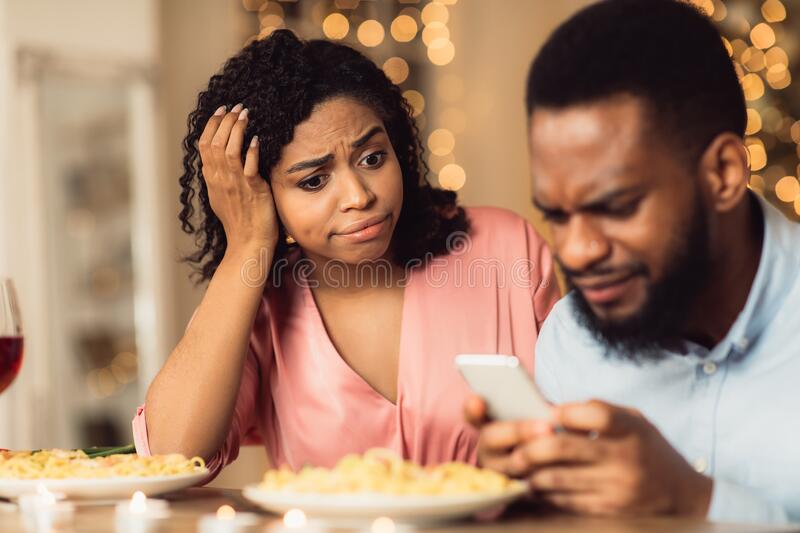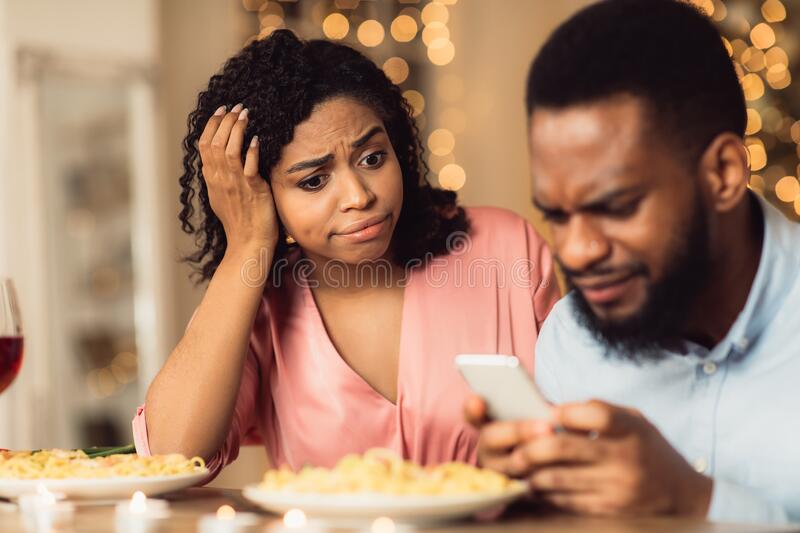 In reaction, several netizens in the Nigerian cyber space joined the discussion and opened up on their worst experience on a date with the other gender.
Read one lengthy response from Twitter user @tiananjoku below,
"Lol, I have so many, but let me just say this one.
So I met this guy in school and apparently he is a "student lecturer" and had just started working in my school.
We exchanged numbers & he pushed for a date, which I declined at every point bcos I don't have strength for wahala.
So one Sunday, I was in town and he called, I answered his call and he started pushing for a date again. I figured since I was in town, it wouldn't hurt to have a date with him and at least, he'd stop pestering me. So I told him where I was and he came to pick me up.
He drove us to one buka where he says was his favorite because their afang soup slaps.
I didn't have a problem with it, I was there for the conversation and to hear what he has to say and not even the food.
So we started talking, this guy was condescending!!!
He talked about women like we're just sex objects & was emphasizing on how women are so cheap & how he'd slept with girls from this school & that school. This guy went on and on…he loves the sound of his own voice! My appetite disappeared and i told him I was done eating.
Lol, he looked at my remaining food and said "why are you wasting food, Are you sure you don't want them to pack it as takeaway for you, so that when you get to your hostel, you'll not be dreaming about the food that you didn't finish"
I was like huh?! and he wasn't joking because he legit was calling the people that served us to come and pack it. The food was just #600!!! I told him not to bother but I felt so embarrassed, because Wetin this one mean now… we were leaving the "buka"
noticed he has bow legs and I asked if he plays football and he said he does, and asked how I knew. I told him because of his bow legs and I swear to God, before I could say Jack! I heard twaiii! at the back of my head. This guy legit slapped my head and was laughing…..Ahhhh
I had instant headache and was so pissed with tears legit in my eyes, because I'm a good person and I don't deserve this type of mad person in my life. I asked him what he did that for and he told me, he was just fooling around with me, By slapping my head? I changed it for him!
I asked him to drop me off where I'd get a bus home because I didn't know where we were at that point, the idiot on the way asked me why I was so angry and that I'm too "serious".
After he dropped me, I blocked his number and deleted it too. Bastard."
Lol, I have so many, but let me just say this one.
So I met this guy in school and apparently he is a "student lecturer" and had just started working in my school.
We exchanged numbers & he pushed for a date, which I declined at every point bcos I don't have strength for wahala. https://t.co/LptRAOCucg

— Soft girl 😇✨✨ (@tiananjoku) September 20, 2022
Read more responses below,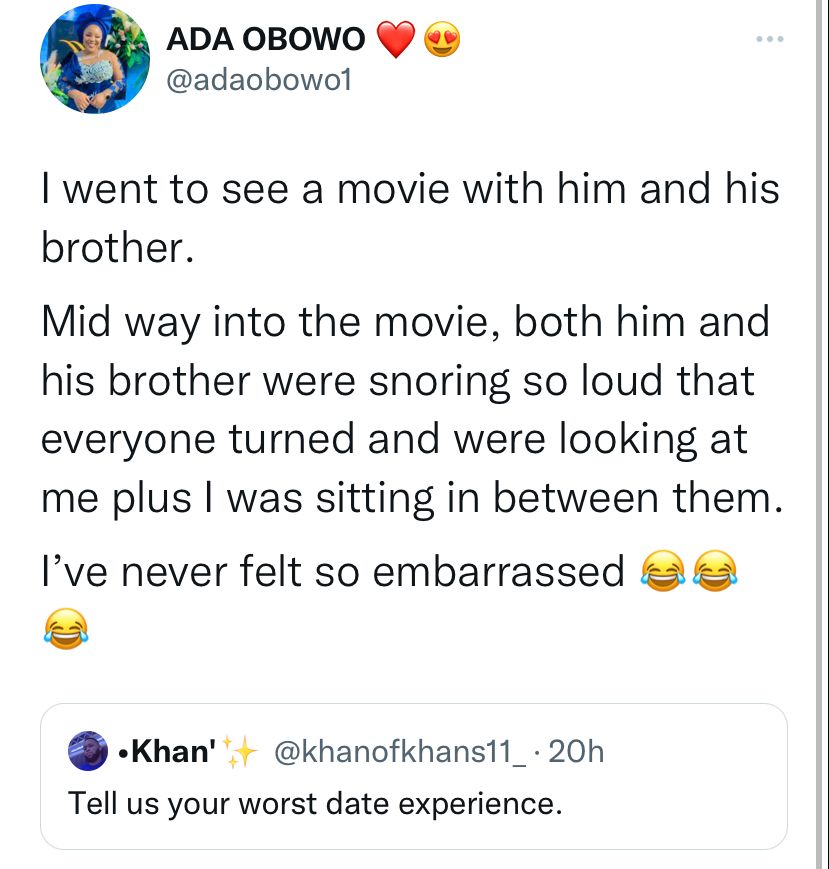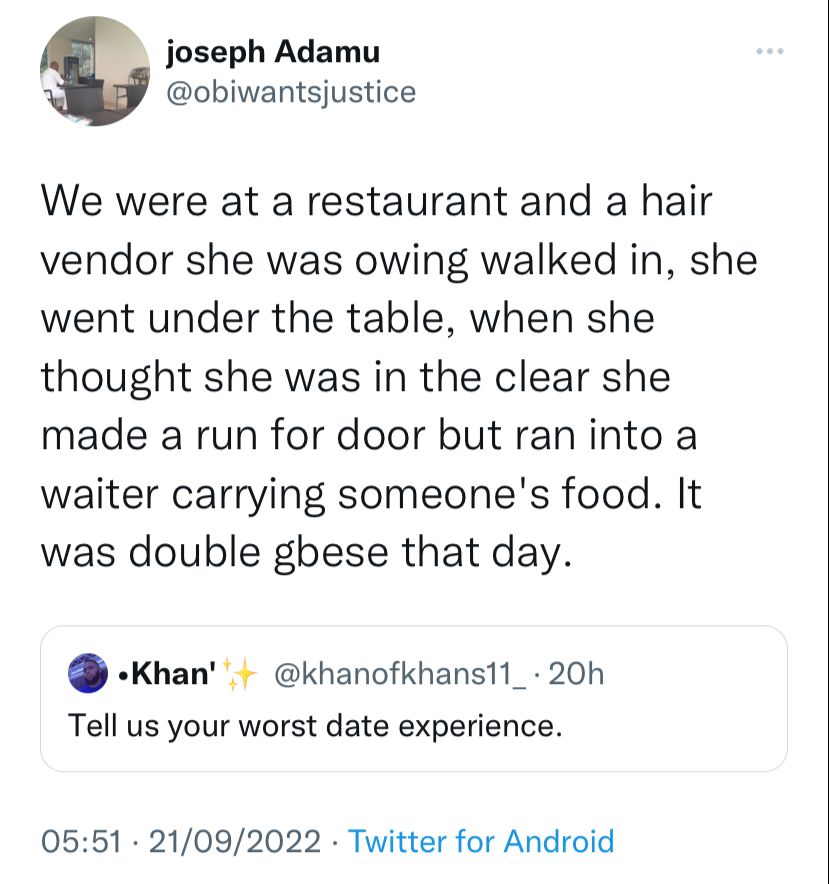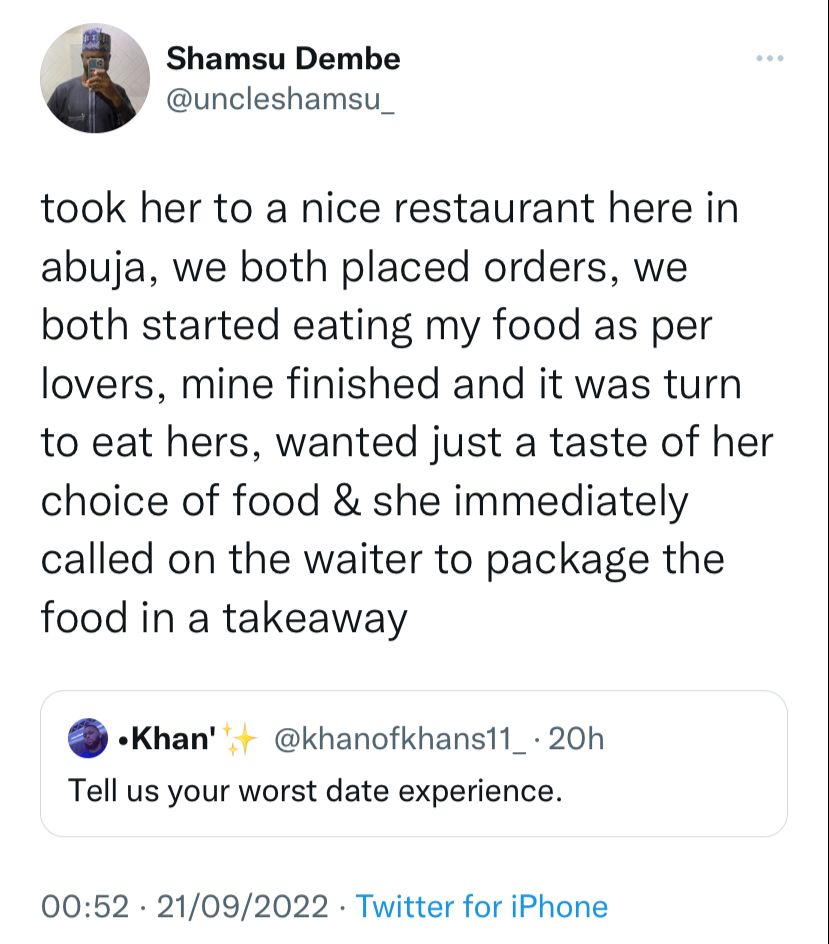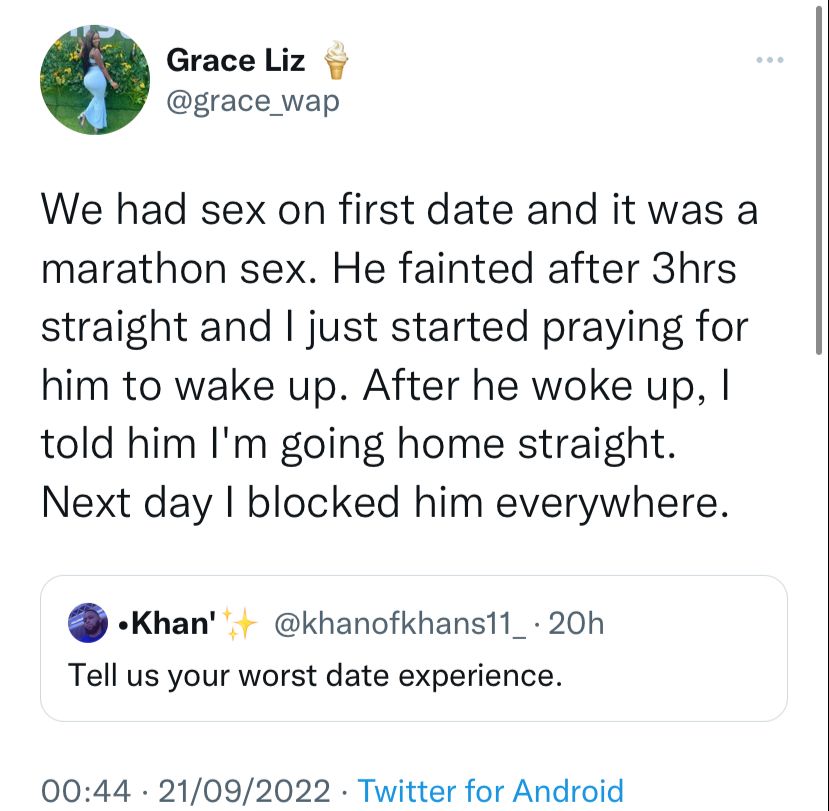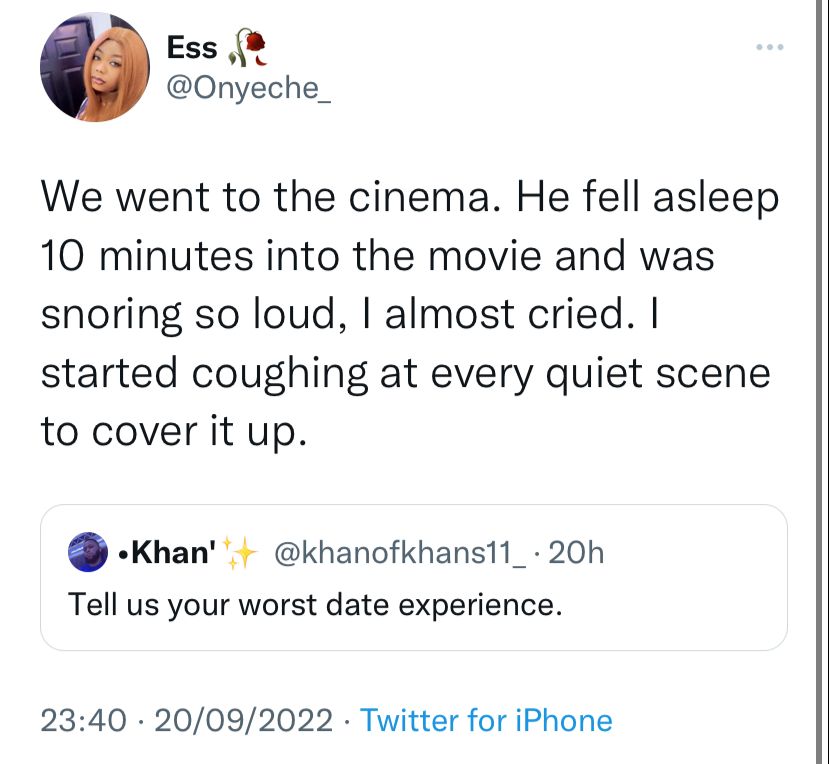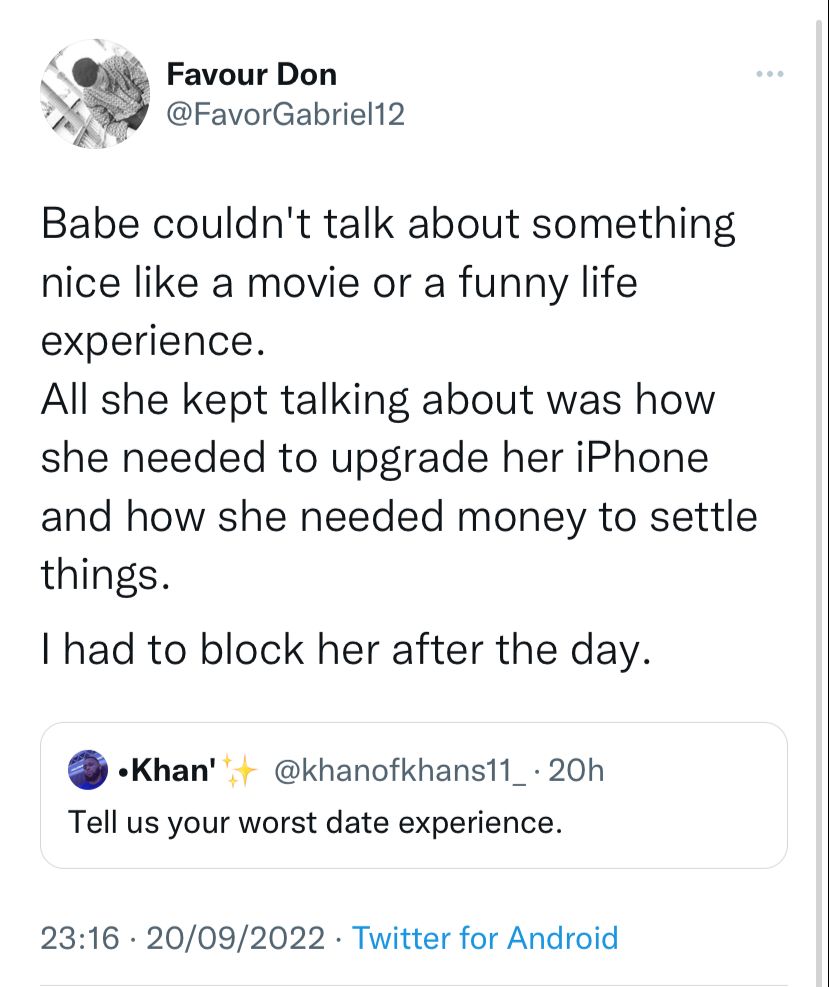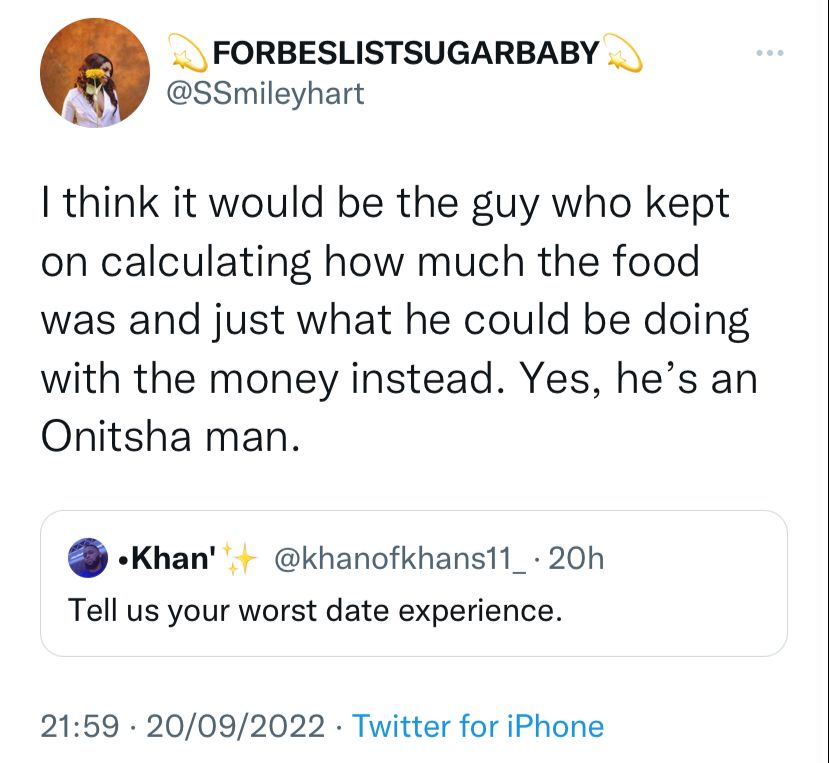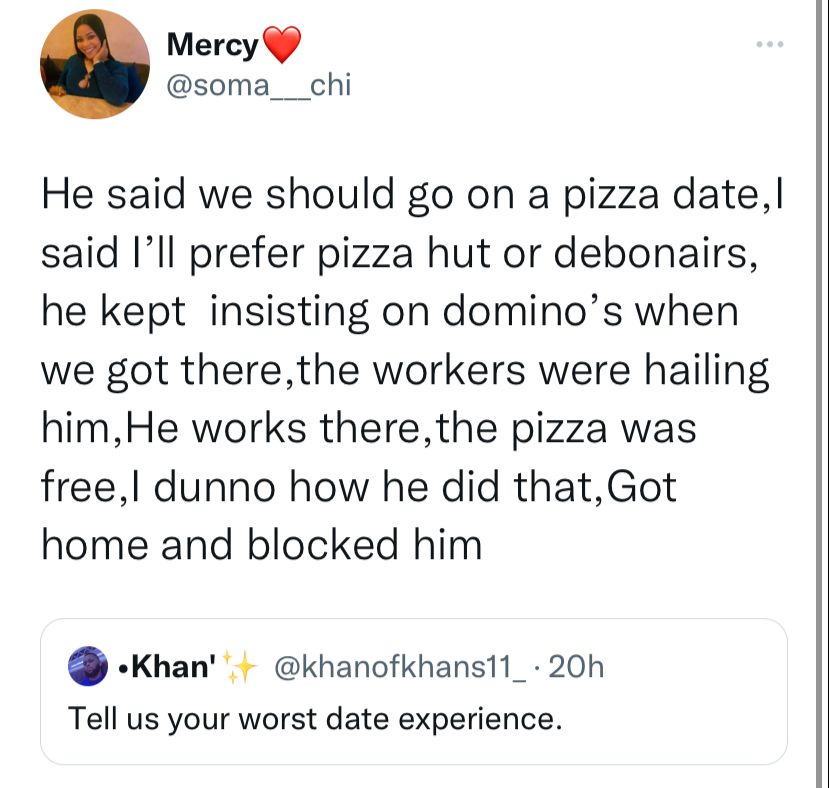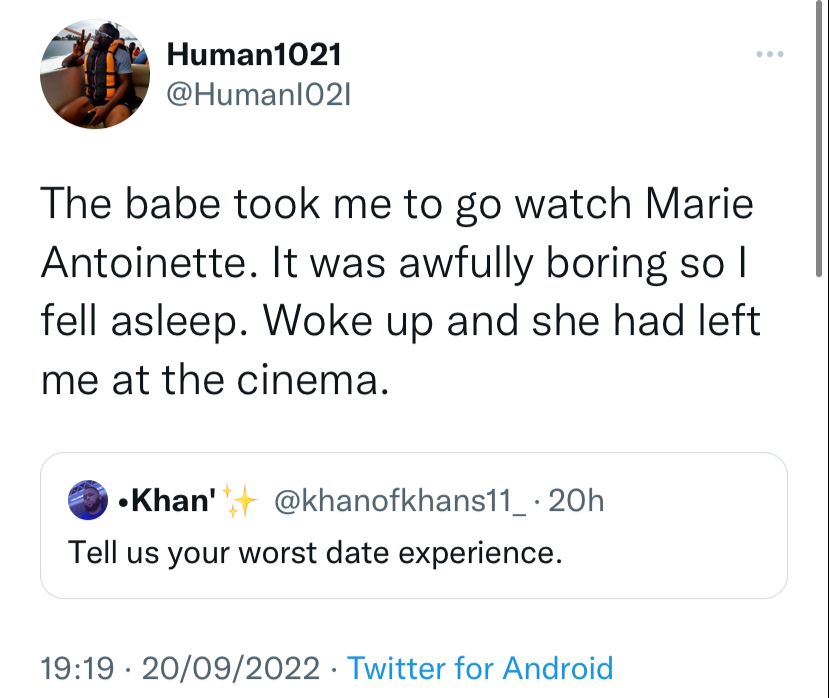 Canada is Paying $50 Per Hour To Everyone interested in working in Canada with Free Sponsorship – Apply Here